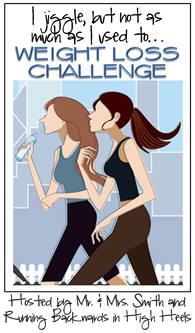 Okay so having spilled my guts for the first time EVER last week and actually typed my weight online, I didn't do as much as I wanted to this week, I planed to do at least part of a DVD daily, but Honestly I slept in more than I should have, but I have worked on my eating, I ate healthy almost every day this week, and have made myself several frozen lunches to bring to work and eat!  So I know you all want to know the scale I was actually able to lose a pound, not as much as I'd like to have but I have been working on cutting back my soda's and replacing them with flavored water or tea so maybe a better number next week!
I honestly have had a bad week on this though, but it has made me more determined… My fiancée Kensei made a comment that really upset me.  I've always been curvy like I said in my previous Challenge post, but when I was posting pictures of myself and my family from a beach trip the other week, he made a comment about was I sure I wanted to because it looked like I had gained a LOT of weight… it really upset me, and I am still honestly a little po'ed about it, but he doesn't see anything wrong with the comment.
Okay see you all next week!