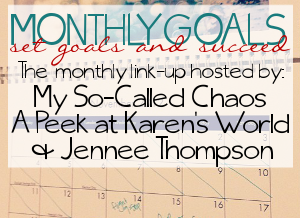 So Feb was kind of a bust for me, I only finished one goal.
1. try to save at least 300 for M's wedding  Fail--- I wanted to and tried, but with Kensei's back being out and him not working I got nothing…
2. Get my taxes done  Success! I did it!!
3. Don't spend as much money on things I don't need Nope…. spent way to much on things like eating out and some things I didn't need.
4. Post at lease 3 book reviews.  I didn't post any reviews, I did post a what have I read but not any reviews.
March Goals
1. Try to post at lease 3 reviews
2. sign up for Obama Care so I don't have to pay the fee
3. spend spring break relaxing and catching up on school work
4. Clean the bedroom and do the laundry regularly.
5. Try to drink at least 3 glasses/bottles of water per day
6. Post a review on my Jawbone and try to stay active each day