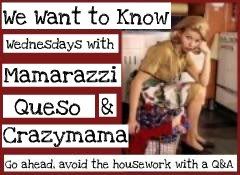 1. Do you shop til you drop, or are you in and out as quick as possible?
I am definitely a shop till I drop girl! I could spend hours and millions shopping if I had the means!

2. Are you a price conscious shopper?
I try to be, but I don't like being one, like I said if I could I would spend millions!

3. What store could you spend HOURS in?
Target, Books A Million, Barnes and Noble, Ulta, Lush and Sephora

4. What is the most frivolous purchase you have ever made?
I bought a playboy bed canopy.  and Sadly I've never used it, it is still in it's original packaging (similar to this!)
5. What was the last thing you bought for yourself?
Hard Candy Lip crayon in jezebel!
I did a vlog for what I got this month! Are you signed up? What did you get? Did you like this month's box??