I love making yummy fall/winter flavored foods and when I put this together I KNEW I needed to post about it!
I am sure someone else has thought of this, and you can probably find a recipe for it somewhere on the internet but this is what I decided to make for dinner tonight, while looking in our ( mostly empty) fridge.
I decided to make some Orange Cranberry Baked Chicken.
This recipe makes about 5 servings: AND I figured out how to make nutrition facts so I will include that as well!
It is REALLY very simple!
You will need:
4-5 Boneless skinless Chicken breasts (I bet Turkey breast would be AMAZING if you can find it!)
6 oz. (or one small single serve container) Of Orange Juice, I used Simply Orange
4 oz. of jellied cranberry sauce
2 tbs of beef stew seasoning (because that just makes it easy)
and 1/4 cup of the Campbell's Sweet Onion soup for easy cooking
Mix all of these ingredients into an oven safe container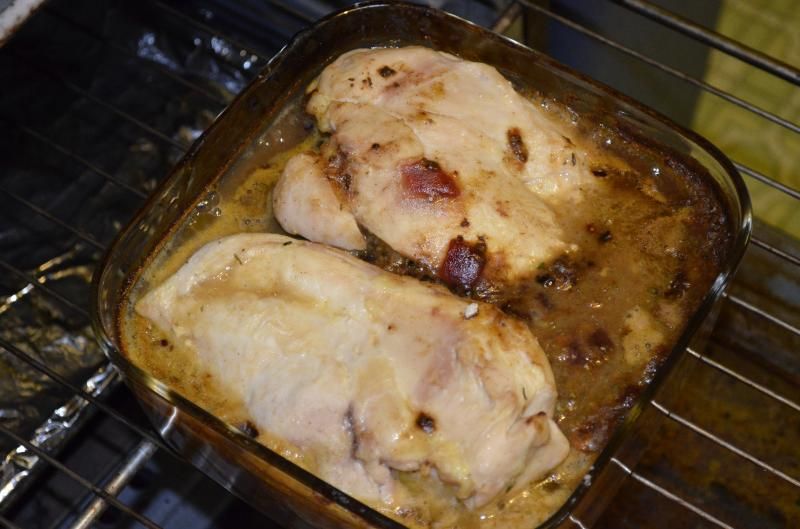 It would probably work better if all of your breasts were in a single layer, but I doubled mine up.
Place into an oven set at 350 degrees ferenheight for an hour.
Go do housework, play on YouTube, Do homework, or anything else while this cooks, (DO NOT NAP!!! Bad things happen when you cook and nap!! I know!)
After an hour come back and flip the breasts over, this may not be necessary but it is what I did!
Place back in oven for 30-55 min Check carefully because the sauce will burn if left to long.
Pull out of oven and let cool slightly before serving!
I served mine with MORE cranberry sauce, stuffing, and buttered corn!
Do you like Baked chicken? Think you might try this out this winter? Let me know in the comments!!