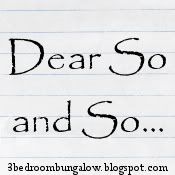 Dear lady at the hair salon:
Yes I have long hair, and yes I want it longer. I am sorry that you had to spend a few min to actually trim the long hair and then tell me that the extensions are going to be $10 a row. I hope that you had a great day after I left.
Angel
Dear the guy in the Naughty Shop:
I don't understand how you don't check ID's until AFTER three UNDERAGE girls bought something and then are all rude. I was just browsing with my sister and watched a group of HIGH SCHOOLER's with id's around their necks buy several items and then when my sister and I walked around the corner you screamed at us for ID. Why did you not get theirs? WHY did you sell them those outfits. Where could teenagers possibly have the need to wear "sexy school girl" "Hot Construction Worker" and "Wanda the Witch" outfits?? and why are your parents not kicking your buts???
~Angel.
Okay now that that is out of my system I have good news I Made the Deans list!!!