So I have never done one of these before! If you wanna see how a professional does it click here~~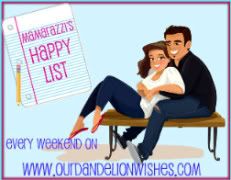 I am happy because I got something super special in the mail last night.
I am happy because I am doing a guest post on my "Big Sisters" blog.
I am thrilled that I got all my shopping done for my Valentines and Pinktastic swap!! I am so looking forward to them!
I am happy that I have discovered so many great new blogs to read and people to know!