Penni has been LOVING getting her monthly Barkbox in the mail! In fact her newest thing is as soon as it comes she knows it is her box and will just sit next to it and pout until I open it for her!
So Penni was super excited about what was in her Halloween box, Although we were a little sad that Barkbox didn't give Penni the Halloween paper that everyone else got.
One thing that I was really excited about this month is they included a scout's honor promise that if the pup doesn't ever love an item in their box they will replace it. I sent them an email about one of the items in this month's box but no response yet.
The first thing in the box was Hartland Premium Weasand Strips; which is made from 100% cow gullet and made in the USA in Nebraska! Penni LOVED hers!! The Value is $3.
Then she got 2 bags of treats!
Baker's Best Autumn Harvest Treats: 3 ingredients never tasted so good to your pup! Made from Liver, Italian olive oil, and oat flour from Canada, these crunchy classics are sure to be a hit around the neighborhood!! $10 retail
Max & Ruffy's Pumpkin Patch Bites: Made in Maryland with organic, GMO-free ingredients, these terrifyingly tasty treats are also free of animal products, preservatives and dairy. Nothing but goodness in 'em! $4 retail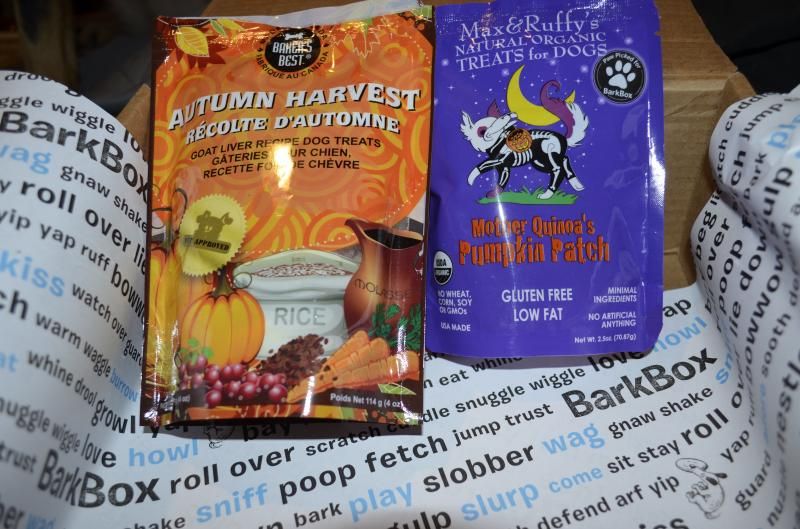 Penni LOVES these!!! She adores the treats that we have gotten in the boxes so far!
We also got 2 toys this month: as usual Penni is pretty Meh with the toys although she does seem a little interested in the Mummy toy
Plush Puppies Squeaker Mat Mummy: With multiple squeakers through the body and double stitching for durability, this squeaker mat from Plush Puppies is ready for whatever adventure your pup has in mind! $15 retail
Penni has snuggled the mummy but she doesn't like squeakers usually so I am waiting to see what happens when the mummy squeaks.
The second toy is a toy that Penni is NOT interested in at all sadly.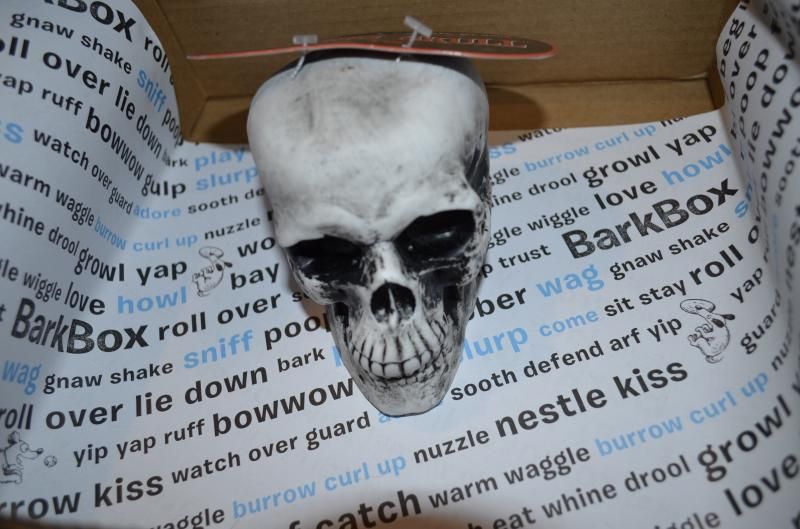 Petprojekt Squeeki Skull: What's Howloween without some spooky skeleton friends? BarkBox pups are brave, no need to be afraid of the Petprojekt squeeki skull there is to much fun to be had with it! $8 retail.
Do you get your pets a subscription service? If you want to sign up for Barkbox and use the referral links in this post you are supposed to get 10 off your box!!