So I will admit I was NOT excited for Kensei to get his Lootcrate this month. The theme was Fear and all the teaser images were very zombie heavy and I am NOT a Zombie girl in any way shape or form! I was pleasantly surprised about this Lootcrate though.
So what did we get?
first my favorite Item in the whole box!
This is the Death By Kittens T-shirt!! YES those are kittens in the shape of a skull!
Then we got
Toxic Candy Waste and the Loot crate button
Third we got a Dead Rising 3 Sledgesaw Hammer Pen, which is a Capcom and Lootcrate exclusive, quite honestly this isn't really of all that interest for Kensei and myself, BUT we have a friend that is really into this game so We will probably be passing this along!
Another thing I was excited for was a book! They sent us How To Survive A Sharknado, I love reading books like this!!
back on the not really our thing train, we got an art print from JSalvador's SuperEmoFriends, "Oh, Brother"
A Walking Dead Lootcrate Exclusive comic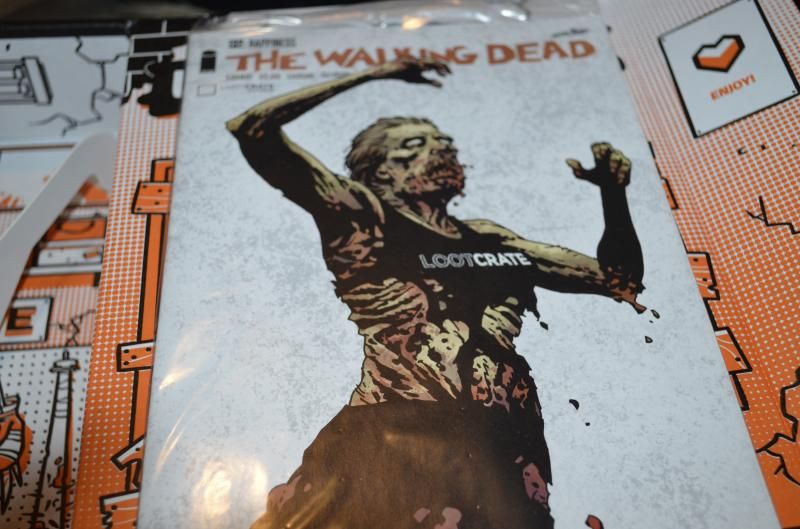 Slashes and bites Temporary Tattoos,
and we also got a Smite Gift card which was a super7 and lootcrate exclusive, unfortunately we don't play the game so it is wasted on us.
The booklet was all 3D and zombieish which I didn't go for at all, although I did run around for about 30 min pretending to be the Doctor in my 3D Specs!
Do you get LootCrate? What did you think of this months box?