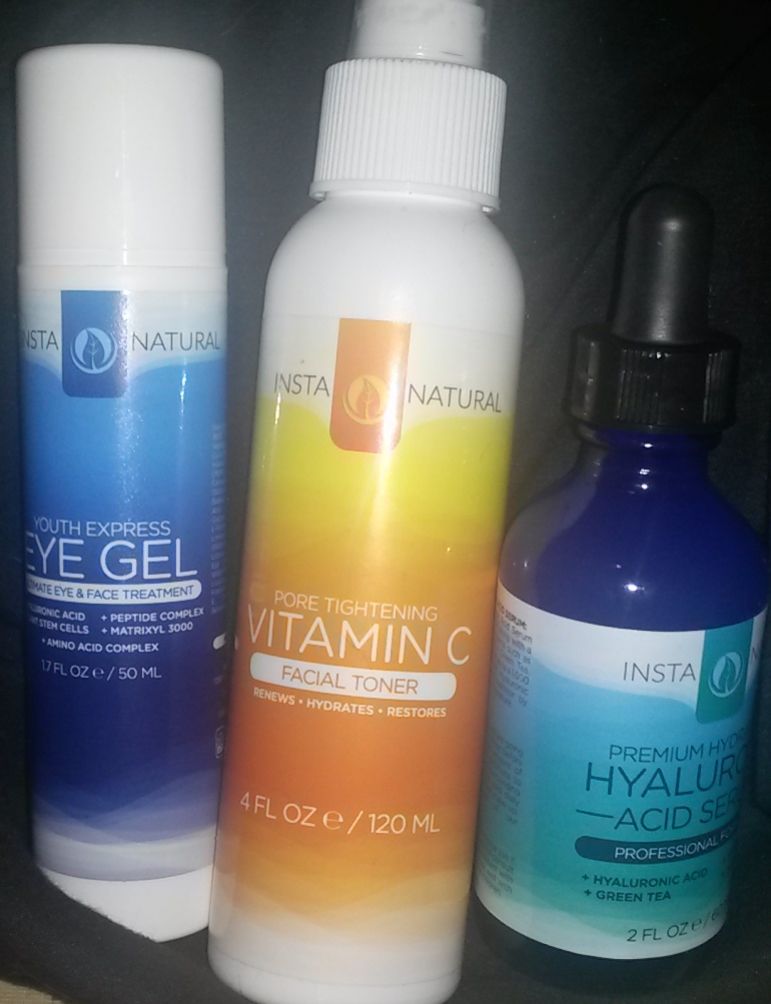 I was really lucky in that BrandBacker asked me to try out some new face products from InstaNatural, I got to try out their Hyaluronic Acid Serum, Youth Express Eye Gel, and Pore Tightening Vitamin C Toner.
I really loved all of these products, I have a daily moisturizing routine, that if I don't moisturize my face 2 times I will end up with dry patchy flaking skin, which is NOT Pretty, with the InstaNatural products my skin was very well hydrated.
Here are my individual thoughts on each product:
The Eye gel: You get 1.7 oz or 50 ml in the bottle, that is a LOT of eye cream, it says you can use it all over your face, but I never did because to me, eye cream is eye cream not face cream. I loved the smell and that it was thick but not super thick to make my eyes look puffy.
The Toner: I have honestly never gotten used to using a face toner, but this one wasn't bad, first of it is a spray not a pour on the cotton ball type of toner, which I LOVED! The sprayer could have had a little finer mist though, the smell was a nice burst of orange which helped wake me up in the morning. It has witch hazel and a UV blocker!
The Acid Serum : I love the trend of putting acid on your face, it makes me smile when I apply it, I will say the dispenser for this was not a well planned one, it comes in a medicine dropper style dispenser which the serum is honestly to thick for, but other than that the serum absorbs quickly and with no residue, which is a major plus to me!
You can get all of these products from Amazon or their website, What do you use in your skin care routine?
*This product was sent to me free for my honest review and opinion, by BrandBacker, All thoughts and opinions are my own and not in anyway influenced by the company*