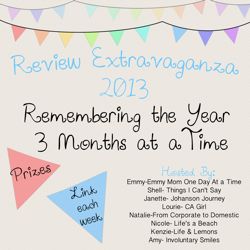 Sorry about this one being up a little late, I just spent the week in SC visiting my family!!! I will have LOTS of pics up soon!
July!

I had a lot of fun in July, I never did a full post on this, so I might do a recap this month, but My dad and sister came to visit me in TN! We went to beale street and to the Memphis Anime Blues Convention!!  (all of these are from my Instagram account! Add me if you want to see what is going on in my day to day non updated life! )

Because Yes, these WERE the droids my dad and Kensei were looking for!

Jujubee hanging out in our room at the Hilton Hotel!

 
Jujubee and the Daleks!
The two sisters!
The Doctor's Scarf… I was determined to win this at a Doctor Who panel, my hand went up to answer the question before they even finished ASKING it!!
I also posted about how  I feel since moving in with Kensei… sadly some of these issues have not yet been resolved.
I talked about when I stopped feeling beautiful.
Shared my July Goals!
Talked about my opinions of Books and their covers.
And participated in the Books N Bloggers Swap!!
August
We got a new Sister for my Penni Puppy, when we moved she met Kensei's dog Sugar and his dad brought home a Puppy named Lady in August.
She was super shy and sweet for all of about 15 min!!
All 3 of my girls in order from back to front, Lady, Sugar and then Penni Puppy!!
I got to try Lifeway Keifer from Influenster!!
Shared my August goals!
Did REALLY well with my book reviews this month! I posted Angel Reads on Of Poseidon,  Bewitching: The Kendra Chronicles, and Towering 
And shared how to survive an 8 am class!
September
I participated in Blogtember.
I talked about what I would do if I could take 3 months off and money was not an object.
Talked about an Italian Saying my Nana used to say. "Il diavolo fa le pentole na non coperchi"
Went "shopping" and talked about my possible wedding dress!
I told everyone the Essentials a Girl should have in her car at ALL times!
It was my Birthday on the 20th!! Holy Heck I'm 27!!
Things I got/did on my Birthday!!
AND If you want to see me dance with a Puppy because I am odd like that, I Finally figured out how to embed Instagram videos!!!
And I talked a little about Life Lately.
I hope everyone had a great 3 months and can't wait for the next set!!