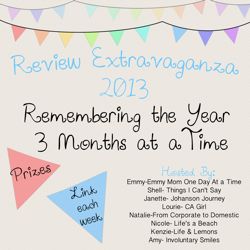 So as I was going through these posts I found out that a bunch of the images I posted are no longer showing up.. which really bugs me, I was uploading them from my computer to blogger, so if anyone knows of a way to fix/stop this I'd be grateful!!
April
I talked about some things that I think all people need to know about What to not to/say to a Font Desk Clerk.
I listed my Favorite books of all time!
And I flashed back to being a kid for Sunday Social!
I also apparently saw a WHOLE lot of the Silence on April 23rd….
May
I talked about 5 books every woman should read.
I showed what was in my purse.
I talked about what would happen If I Won The Lottery
Shared more Birchbox and Ipsy .
June
I shared my Beauty Box 5 Impressions
I shared 2 Swaps I was in… But sadly the pictures have vanished!!
I talked about my 2013 reading list challenge
I ranted about how Charities say they are helping when they really don't…