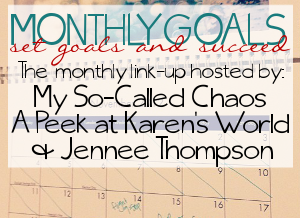 September Goals:
Do not skip any classes!! Fail--  I only missed one for each day, one Tuesday, because I was exhausted from work and one Monday because I had a flat tire on the way in.
try to work out some, either online, at school gym, or just running in the park. Fail—I had one online workout and technically signed up for boot camp, but because of school and work haven't made it to an orientation yet.
do either a follow me around vlog or a what's in my school bag post/vlog. Fail—I recorded a what's in my school bags vlog but haven't edited it or posted it yet. But I DID post a what's in my purse!
Enjoy my Birthday!! Success!! I had a wonderful birthday, even though the dinner was a little bad because of our table guests.
try to get through at least 3 boxes that are in the computer room! Fail—I only got through one.
Blog more. Success—I posted a lot more regularly in September!
Renew my AAA Success-- I did this so I am good one more year!
Clean our bedroom Fail—I can't even walk through it with out climbing over things…
Leave at least 10 random hearts/inspiration post its in random places. Success!! I had a lot of fun with this!
Make Penni Puppy's Vet appointment. Success!! I made it and we went! She is a super healthy puppy girl!!
4 out of 10 this really was not a good month for me.
October Goals:
make it to the boot camp orientation
actually go to the boot camp
Post what's in my school bag vlog
clean out our bedroom
save at least 100 for my trip home in December
once again attempt the boxes in the computer room
move my bookshelf into the living room
wear some kind of Halloween makeup-outfit to my photo class for the extra credit around Halloween
write my photo paper before it is due.