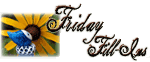 1. Please don't tell
my boss I spend all my time at work on a laptop, blogging or watching movies.
2. Can you
think
in the morning?
Not really, can't eat until around ten either.
3. The color
brown
makes me want to
curl up and sleep
!
4. I have a craving for
anything sweet.
5. If my life had a pause button, I'd pause it
at least once a week, and then rewind and hit play again!!
6. Eyes are the
Windows to the soul
.
7. And as for the weekend, tonight I'm looking forward to
working
, tomorrow my plans include
organizing my closest and more work.
and Sunday, I want to
organize my closet and room and I will be at work again!